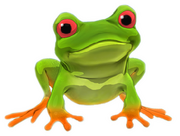 Frogger
is a green, anthropomorphic frog. Best known as the namesake of
the classic 1981 arcade game
, he has gone on to star in a series of video games spanning numerous platforms. These games almost always involve hopping around on an invisible grid. Frogger is a registered trademark of
Konami
.
Character Design
Edit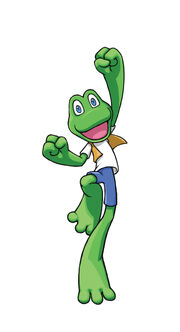 Over the course of his video game career, Frogger's character has undergone drastic changes.
Frogger's initial appearance was that of a semi-realistic-looking frog. Frogger was given a redesign in 2001 with the release of The Great Quest. He was given an anthropomorphic design along with a t-shirt, a vest, and shorts.
In The Rescue, his look changed to a more strong appearance. As defender of Firefly Swamp, his many adventures carried on through 2001 to 2005, before a reboot with a new video game,My Frogger Toy Trials, brought it back to it's origins again in 2007. Another original Frogger sequel was made a year after the MFTT. Frogger 3D, made in Japan the earliest and America a few months after, was made in 2011, thus,so far,concluding the Frogger trilogy.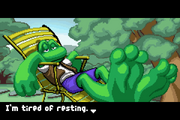 Frogger's Links
Edit
View More On the website.
Wreck-It Ralph
Edit
Frogger makes a cameo appearance along with Dig Dug and the Angel Kids in the film, "Wreck-It Ralph" at the Game Central Station hopping away from Ralph upon seeing him. His iconic 8-bit hopping noise can be heard as he hops away from Ralph.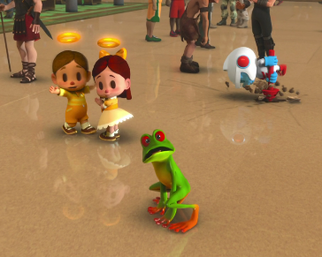 See Also
Edit