Jurassic World: Dominion Dominates Fandom Wikis - The Loop
Play Sound
Frogger in Toy Town is an action game developed by Q-Games and published by Konami for Apple Arcade. The game was released on september 20, 2019.
Gameplay
[
]
The gameplay seems in the same spirit to the Frogger original game, but in 3D top view instead.
The gameplay has some new additions, Frogger can now hop up structures in order to retrieve the froglets and he can even fire balls at enemy toys. Meanwhile, collect 100 beans and Frogger goes into "Super Frogger" mode, becomes invincible, and nothing can stop him as he hops onward, knocking blocks and cars out of his way.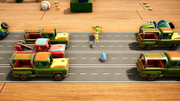 Each stage has three tasks you need to complete to collect coins. Two of the tasks almost always revolve around saving a certain number of froglets while the third is usually level specific. Sometimes you have to avoid taking damage, other times you have to avoid being hit by a certain hazard. It can be troublesome when hazards start to stack up because if you do take a hit, any froglets you've rescued will scatter to the wind.
Save up enough coins from completing the tasks and you'll unlock new costumes, challenge levels, and houses filled with more stages to conquer set in.
Cop-op Mode
[
]
As of the update on April 17 2020, the co-op mode is now available for the player to play the game together with another player. By inviting a nearby guest through "Co-op play" in the main menu, the player can turn their device into a controller and play the game together.
Party Cruise
[
]
(November 13, 2020) Frogger in Toy Town recently celebrated its first anniversary, and has added eight new stages as well as numerous new costumes and collection items. The 'Party Cruise' update is themed around a festival, with a showboat and harbour bustling with attractions. The player will be able to unlock festival-themed costumes which they can wear whilst rescuing froglets on the Water Lily.
Ver 1.5.0 Update with Endurance Mode!
[
]
(March 5, 2021) Test your Frogger skills in the new Endurance Mode! Select your course of choice from either Toy Town Course, Midnight Course, and Party Course and see just how far you can go! Stages will appear randomly and will increase in difficulty as you go. Compete for the best high score with players all around the world!
New collectable Capsule Toys!
Trade in the Stamps you get from Endurance Mode or Reward Medals from Story Mode to get Toy Coins. Spend your Toy Coins to get a random Capsule Toy from over 300 collectable Capsule Toys!
Ver.1.6 Update with Frogger Game Show Mode
[
]
(December 10, 2021) A new ranking based mode of play inspired by the TV Series hit show is now available in Frogger in Toy Town. Test your Frogger skills in three iconic stages from the show: Frog City, Candy Frog Land or Toad Temple. New costumes and Capsule Toys have also been added.
Launch Trailer
[
]
Gallery
[
]

External links
[
]